Calling All Unicorns: The Bazillion Dollar Club
Tuesday, July 21
2:00PM - 3:00PM
Tower Ballroom 4

Brady Forrest
Highway1 - VP

Dave McClure
500 Startups - Founding Partner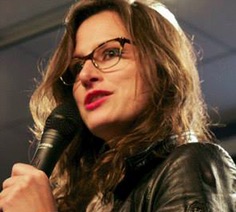 Leah Hunter
All The Good Ones - Writer
Summary
Veteran entrepreneur advisors Dave McClure and Brady Forrest have supported hundreds of startups in taking their ideas to the next level through their software and hardware accelerators. Now they bring their greatest lessons learned to the V2V stage.
In this keynote interview with Fast Company writer Leah Hunter, you'll be the first to hear about McClure and Forrest's new docu-series, the Bazillion Dollar Club (BDC), premiering September 2015 on Syfy. BDC follows teams of hardware and software startups as they go through the grueling accelerator processes of 500 Startups and Highway1. 500 Startups is an early-stage seed fund and incubator program that focuses on consumer and small-to-medium sized Internet startups. Highway1 helps startups go from the prototype stage to a company that can build and deliver products on a global scale.
Drawing from their extensive experience, McClure and Forrest will discuss best strategies for your company to secure funding, build a team, develop a product and manage growth.
Dave McClure is the founding partner of 500 Startups, a venture capital firm and startup incubator in Silicon Valley with over $175M under management. He has been an investor in hundreds of companies around the world including MakerBot, SendGrid, Mint.com, and SlideShare, among others.
Brady Forrest is Vice President of Highway1, PCH's accelerator, which invested in hardware companies like Navdy, Ringly, and Cue. He cofounded and shepherds Ignite, a global talk series, and helps arts organizations via CAST-sf.org. He co-authored the recently released "The Hardware Startup" for O'Reilly Media.
Event Type:

Sessions

Category:

Keynote

Theme:

Business Development and Strategy

Tags:
← Back to Schedule